5 Ways to Celebrate Valentine's Day Phoenix Style
When it comes to Valentine's Day, the Phoenix area has a few different celebration options than the rest of the United States.
Our 300+ days of sunshine means most days will have beautiful weather to be outdoors, and February is in the heart of our tourism season so hotels and restaurants will be at capacity (and pricey) for those looking to celebrate in the traditional ways.
So, here's five options for how to optimize your Valentine's Day experience in the Valley of the Sun. For those looking for a last minute gift for your special someone, please consider a Taste It Tours gift voucher to use on a future food tour.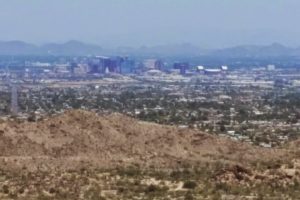 1. Take a Hike
The Phoenix area is blessed with endless mountain ranges offering spectacular views and desert wildlife. Even though Valentine's Day falls on a Tuesday in 2017, sunrise is around 7:30am and sunset isn't until 6pm, so you can get in a hike before or after work.
Depending on your location and skill level, consider "A" Mountain in Tempe followed by breakfast on Mill Avenue, the picturesque Pinnacle Peak Park and then dinner in Carefree, or head to Estrella Mountain Regional Park for a day of hiking, biking and horseback riding.
2. Get (Horse-Bound) Carried Away
Speaking of horses, what's more romantic than a horse-drawn carriage ride through Old Town Scottsdale? Both KC's Classic Carriages Company and Scottsdale Horse and Carriage provide narrated tours, which can be customized with champagne and flowers depending on your needs. Also available are stagecoaches, offering a little extra privacy over your classic open carriage.
With over 200 restaurants in Old Town Scottsdale, you could grab a meal before or after your ride.
3. Stop and Smell the Roses
Valentine's Day and flowers go hand-in-hand, and the Phoenix area has several different gardens offering a variety of flower options. The Desert Botanical Gardens offers 50,000 plants from around the world including numerous wildflowers, and the Japanese Friendship Garden features a serene setting for romantic walks with your partner.
Since nothing says Valentine's Day like roses, you could also visit The Rose Garden at Mesa Community College. It showcases almost 9,000 rose bushes, making it the largest rose garden in the Desert Southwest.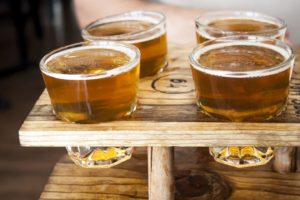 4. Grab a Cold One
Is it merely a coincidence that Valentine's Day falls right in the heart of Arizona Beer Week? The annual celebration of craft beer features daily events between February 9 and 18, and several breweries are throwing special Valentine's-themed festivities.
While this year's only chocolate and beer pairings take place in Flagstaff (because what Valentine's Day is complete without chocolate?), there are plenty of chocolate-infused beers produced in Arizona that can satisfy your craving.
5. Take Your Partner Out to the Ballgame
OK, now for the one idea that is truly unique to Arizona (and Florida). Every year, spring training baseball officially starts with pitchers and catchers reporting, and that day is almost always (including this year) February 14. For the baseball fan in your life, what better way to wish a Happy Valentine's Day than by watching baseball practices and getting a few autographs?
There are 10 Cactus League stadiums scattered throughout the Valley, so chances are you're close to one of them. Practices are free and open to the public, but you'll want to call your local stadium to see what time things start on the 14th.