The 8 Best Mexican Restaurants in the Phoenix Area
What is the first thing you think about when you hear Arizona? No, not the Grand Canyon, cactus or 115-degree temperatures. The first thought should be Mexican food because Arizona has some of the best Mexican food in the country! So whether you are looking for some unique, traditional Mexican entrees or the best tacos in the Phoenix area, Taste It Tours has got you covered.
Barrio Queen
You know what you'll find at Barrio Queen, (some might say the best tacos in Scottsdale & Gilbert,) and a selection of over 100 tequilas. The question is where do you start? Might I suggest a couple of my favorites which just happen to be some of Barrio Queen's most iconic menu items?
For starters, you have to try the tableside guacamole, it's to die for — especially if pomegranates are in season. Barrio Queen adds a little sprinkle of pomegranate arils, which add a sweet and tangy crunch. I know it sounds weird, but trust me and JUST DO IT!
Next, if you are in the mood for tacos, Barrio Queen boasts some of the best tacos in the Valley. My go-to is the signature taco, the Cochinita Pabil. This taco has slow-roasted pork marinated in sour orange and achiote paste, topped with pickled onion and house-made salsa. Combine that with another one of my other favored tacos- the Pollo con Chorizo – and you have a winning combination. The thought of spiced rubbed chicken mixed with a slightly spicy chorizo is a bit out of the box for a taco traditionalist, but trust me on this one, it will be your new favorite, too.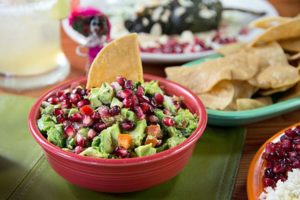 [Image Credit – Mouth by Southwest]
Los Taquitos
You might notice this popular Mexican joint for their DDD (Diner, Drive-Ins & Dives) fame, but this family-owned restaurant has been around since 1981 and started as a small food cart and is now a Valley staple.
Taco Tuesday's at the ever-popular Los Taquitos are delicious, but you better get there early to avoid the crowd clamoring over their $1.30 street tacos. The El Pastor tacos are the real star, but if you are going for Taco Tuesday, you might as well try all of them, (El Pastor, Carnitas and chicken) they can't be missed!
In addition to the tacos, there is so much more to their menu that will require you to make multiple trips. The ceviche is the best I've had since visiting Mexico. The carne asada nachos are a meal for two and if you are looking for one of their hidden menu items, ask for the "Bombero Burrito" with chicken, but BEWARE, it is very spicy, but oh so good!
And oh, by the way, during happy hour, the house margaritas are only $4 and arguably the best margaritas in the Valley. Be careful, though, they sneak up on you!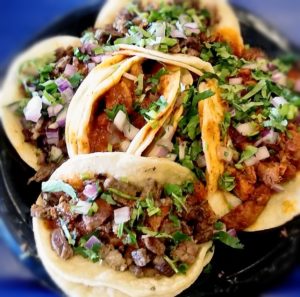 [Image Credit – Los Taquitos]
La Señora
La Señora, located in The Saguaro Hotel is the new kid on the block on this list. With an extensive tequila menu, unique margaritas and a mix of tacos with some eclectic, yet surprisingly delicious topping combinations, La Señora is a hidden gem that won't be hidden for long.
One of the surprising standouts was their mushroom huitlacoche tacos. Can you say a ton of flavor? I was shocked. Yes, this consummate carnivore just recommended a mushroom taco. Trust me, vegetarians and meat-eaters alike, you will thank me! This will soon be the best vegetarian taco in Scottsdale.
But if you just can't wrap your head (or tastebuds) around a mushroom taco, you have to try the pork adobo and the carne asada. You are probably thinking, "pork adobo and carne asada, I can get that anywhere!" and you would be right. But the combination of grilled pineapple and pickled onions on that smoky, chipotle flavored pork has my mouth watering even as I write this.
Then, the carne asada… I will go out on a limb and say it might have been one of the best carne asada tacos I have ever had. When I looked at the menu and saw it had roasted pecans on it, honestly, I was skeptical and had every intention of taking them off. But when the tacos arrived I thought, "let me check this out." Oh, boy, was I glad I did! There is something about the texture and crunch of the pecans that took this taco over the top.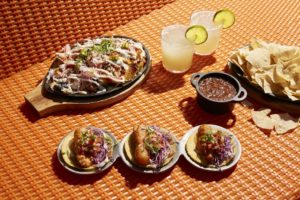 [Image Credit – Yelp]
Cien Agaves Tacos & Tequila
Named a Top 10 Best Restaurant by USA Today, Cien Agaves Tacos & Tequila holds a special place in the hearts of Taste It Tours Founders Jessica & Jay Veniard.
It was on their first date over ten years ago that they realized Cien Agaves was serving up some seriously delicious Mexican food and killer margaritas. You know you are in the right place when they offer chips and salsa with two unique homemade salsas. They even celebrate Margarita Mondays and Taco Tuesdays, with specials on both days in addition to an amazing happy hour, offered daily.
While you can't go wrong with any of Cien Agaves menu items, I think their Tinga Taco is a must-try! Just make sure you wash it down with one of their house-made margaritas. Or, if you are looking for something a little bit different, try the carnitas quesadilla, you'll thank me later.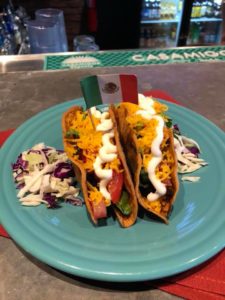 [Image Credit – Cien Agaves Facebook Page]
Los Olivos Mexican Patio
Family owned and operated for over 70 years in Old Town Scottsdale by the Corral family, Los Olivos is housed in a charming structure with unique architectural character and was originally built many years ago by their grandfather, Tomas Corral. Combining their native talents, the second generation of the Corral Family has brought Los Olivos from a little adobe eating spot to its present critically acclaimed dining establishment in Scottsdale featuring authentic Sonoran cuisine.
At Los Olivos, you can't go wrong with any of their combination plates, especially one that features the chimichanga. Just make sure you get their rice and beans with your combo because they are a tasty compliment. Additionally, while it might seem basic, their shredded beef tacos in that crispy fried shell are a traditional Sonoran treat worth going back for and one of the best traditional tacos in Scottsdale.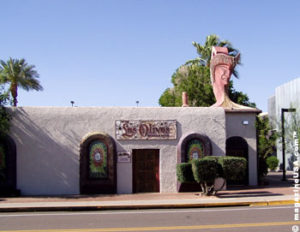 [Image Credit – MagizineUSA.com]
Someburros
Someburros is another family-owned establishment with multiple locations around the Valley, started in 1986 by the Vasquez family whose first restaurant, Pancho's in South Phoenix, was opened in 1971.
So with the long family history, you know the food has got to be good, and it is. At Someburros, it is hard to choose a favorite menu item, but if I could only pick one, it would be the Pollo Fundido. That perfectly marinated chicken, deep-fried and then topped with the jalapeño cream cheese is a show stopper. Be warned though, after eating a Pollo Fundido, make sure you have the perfect spot picked out for a siesta.
If you aren't looking for something that heavy, a staple in our family is the bean and cheese burrito. Our kids swear that the bean and cheese at Someburros is the best bean and cheese burrito in town. An added bonus – they give you $10 towards your meal on your birthday, you seriously can't beat that! No matter what you order at Someburros, it is guaranteed to please. You can't go wrong by making a stop at one of their locations.

[Image Credit – Someburros]
The Original Carolina's Mexican Food
Often referred to as the best Mexican food in Phoenix, Carolina's can be classified as a dive. The restaurant was founded in 1968 by namesake Carolina Valenzuela, who still presides over the kitchen. Since 1986, it has been at 1202 E. Mohave in a building that also has housed a coin-operated laundry and a grocery store.
The character of the neighborhood is etched on the building's cinder-block facade. The restaurant's skin has been pockmarked by bullets and its windows and doors outfitted with heavy metal security bars. But don't let the rough exterior scare you off. If you arrive around noon, the small lot at the side of the restaurant will already be full of Mercedes-Benzs and BMWs because, well, the food is that good.
It's hard to pinpoint exactly what to order because everything is good, but I would try anything that has Machaca in it. While you are enjoying anything Machaca, treat yourself to one of Carolina's warm, fresh buttered tortillas. So simple, but so delicious. And before you leave, grab yourself a dozen tortillas because trust me, the buttered tortillas are that good and you will want to make them at home.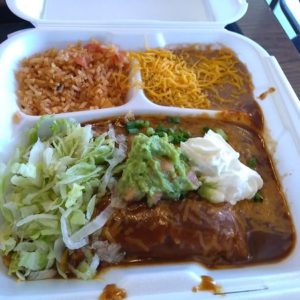 [Image Credit – TripAdvisor]
TOPO
If you blink, you might miss Topo. Attached to Joe's Real BBQ, Topo dishes out seriously delicious take-away foods for a quick meal on the go, or for a leisurely stroll in Gilbert's Heritage District. They serve some unique burritos, elote corn, soft-serve ice cream, and bottled beverages.
ADDICTION ALERT: Once you taste one of Topo's burritos, it's over, you are hooked, there is no going back! If this isn't already rated the best burrito in Gilbert, it will be soon. Unfortunately, you can only get these burritos in Gilbert as this is Topo's only Valley location.
With their no-frills, small menu, you might as well try everything, but the Topo Loco was my favorite because of all the extras packed inside. But that elote! For those of you that don't know, elote is Mexican street corn. Topo cuts theirs off the cob, (making it convenient to eat) then combining it with mayo, Cotija cheese, spices, and cilantro. I would be comfortable saying the elote at Topo was some of the best I have ever had. It has the perfect balance of creaminess, sweetness, and a little kick.
Then when you think you are all done, grab some of Topo's prickly pear soft serve ice cream, because where else can you get prickly pear but in Arizona? You can even add a fun dip to your cone including a lime flavor, for the ultimate Arizona experience.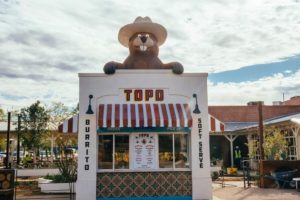 [Image Credit – Yelp]
*Just Launched*
Did this article get you thinking about tacos? Good news!! We just launched the only Taco Tuesday Tour in the Valley to showcase some of the tacos and margaritas mentioned in this blog post. Come check it out. Book your tickets now!
Have you experienced a food tour yet?
Taste the best of Phoenix/Scottsdale/Gilbert's unique neighborhoods with the city's top-rated, most delicious walking food tour! Book your tickets now!
And finally…
Big thanks to Parsons Villa for the feature on their blog. Check them out when you're looking for a place to stay!
.