The 4 Best Barbecue Joints in the Phoenix Area
While Phoenix is not really on the map of the top barbecue destinations in the country, (Texas, Kansas City, Memphis, and North Carolina get all the accolades for that,) we do play host to one of the top barbecue restaurants in America. In fact, there are numerous annual festivals around the state dedicated solely to the worship of this mouthwatering, smoky, meat-fest known as barbecue.
 So, what makes really good barbecue? 
We asked that question to our co-owner Jay, who is a self-proclaimed barbecue snob that grew up in the Southeast and has eaten barbecue all over the United States. "Which region has the best barbecue is an endless debate that no one wins. But I think we can all agree that it is heavily dependent on the type of barbecue we all grew up on. I personally judge barbecue on their ribs, pulled pork, and the sauces. For me, if you don't have a mustard-based sauce you lose points," Jay shared. 
As food tour owners, we have the luxury and privilege to try a bunch of barbecue around Phoenix, Scottsdale, and Gilbert and love to share which ones are our favorites.
Little Miss BBQ
This is the MUST HAVE, can't miss BBQ spot in the Phoenix area and it is 1000%, yes, one-thousand percent worth waiting in line for. The flagship restaurant is located right on the border of Phoenix and Tempe in an obscure location with limited parking and a LONG wait, unless, of course, you get there at 10:30 am to get in line for their 11 am opening. For shorter lines and more seating, you should check out their new Sunnyslope location.
Consistently ranked as one of the best barbecue joints in America, this barbecue joint is famous for its Central Texas-style barbecue flavors, and if you're looking for the signature meat, look no further than their 60% lean, 40% fatty beef brisket that absolutely melts in your mouth. 
Another staple for the BBQ connoisseur is the fall-off-the-bone pork spare ribs that will leave any carnivore screaming for more. If you're feeling extra hungry, (and once you smell this barbecue, it's sure to happen,) try the jalapeño cheddar grits. They are to die for! Not a fan of grits? Check out their ranch style beans and spice it up with a dash of their red and yellow barbecue sauces. 
Get to Little Miss (as locals call it) early for lunch because it gets crowded and when the meat is gone, it's gone!
Location Details: 4301 E. University Drive, Phoenix, 602-437-1177. Also, 8901 N. Seventh St., Phoenix; 602-314-6922.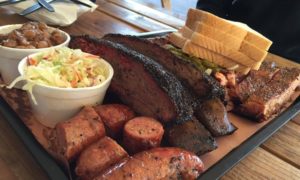 [Image Credit: azbigmedia.com]
Joe's Real BBQ
Mention Joe's Real BBQ and the locals instantly know you are talking about the iconic barbecue joint in Gilbert Arizona. No list of the best BBQ in Arizona would be complete without Joe's Real BBQ. A Gilbert BBQ institution spun out of a historic Safeway Pay n' Takit grocery store, it was built in 1929 when Gilbert was just a town of 700 people. This barbecue landmark opened in 1998 and has been owned and operated by the Johnston and Peelen families ever since.
Known for their flavorful meats smoked over Arizona pecan wood, Joe's take pride in their pulled pork and the twelve, made-from-scratch sides served every day.
One of our favorites, especially if you have a big family like we do and are non-committal to one meat selection, is Joe's Big BBQ Feast which feeds up to 4 or 5 people. This dish allows you to sample most of the best Joe's has to offer with ribs, pork, brisket, sausage, two big sides and their signature BBB (bread, buns, and a baker potato.) This smorgasbord of meat fantasy will send any cowboy into a full food coma. But let me tell you, it's worth it.
And if you want to try Joe's Real BBQ along with 4 of Gilbert's other hidden gem restaurants, check out our #1 rated Downtown Gilbert Food Tour.
Location Details: 301 N Gilbert Rd. Gilbert, Arizona, 480-503-3805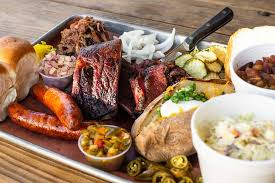 [Image Credit: Joe's Real BBQ Facebook Page]
Pork on a Fork
This locally-owned barbecue with multiple locations around the Phoenix area has racked up some serious accolades. USA Today has ranked Pork on a Fork as one of the Top 10 BBQ joints in the Nation.
In addition to that this funky smokehouse has been featured on the Cooking Channel's, Big Bad BBQ Brawl. Why funky you ask? It starts with the menu. In addition to all the staples that will help you get the meat sweats, Pork on a Fork offers customizable BBQ Bowls and, of course, BBQ Burritos. After all, we are in Arizona so you have to have BBQ Burritos, right?
Our go-to staple here is the pulled pork that is smoked for 15 hours over pecan and mesquite woods. Then, top it with some of their creamy coleslaw and slather it with a mixture of their delectable barbecue sauces. This meal wouldn't be complete without a side of BBQ beans and some waffle fries.
Location Details: 4 Valley locations. Check the website for addresses.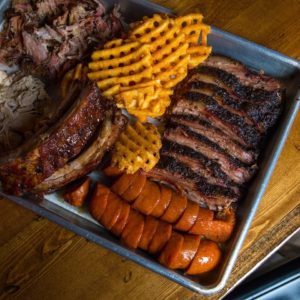 [Image Credit – Pork on a Fork Facebook Page]
Bobby-Q
Since 2005 Bobby-Q has been serving up some of the best barbecue in Arizona. Now with three locations Valley-wide, meat lovers can get their BBQ fix without driving across town.
Voted as one of the Top 15 Restaurants (not just barbecue spots) in Phoenix by InspireTravelEat! and the 2019 AZ Foothills Magazine, Bobby-Q not only serves up top-notch barbecue, but you can also get your steak fix and wash it all down with a craft beer or a handcrafted cocktail. 
If you are looking for something a little different and oh-so-Arizona, try their smoked brisket tacos and the smoked wings (ask for them crispy!) Although, if you are a barbecue traditionalist like us, you can't go wrong with the beef brisket platter, or our favorite, a slab of smoky ribs.
Location Details: 3 Valley locations. Check the website for addresses.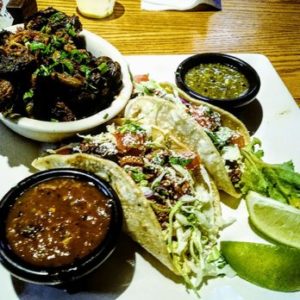 [Image Credit – Yelp]
Have you experienced a Food Tour yet?
What are you waiting for? Taste the best of Phoenix, Scottsdale, Gilbert and Sedona's unique neighborhoods with the cities' top-rated, most delicious walking food tour! Book your tickets now!

Read reviews of our food tours on TripAdvisor and like Taste It Tours on Facebook!