5 Things You May Not Know About Gilbert, Arizona
There's lots of things to love about Gilbert, Arizona, from its ranking among the safest municipalities in America to its vibrant restaurant/nightlife scene. But here's five things to may not know about William Gilbert's namesake.
1. It's the Largest Town in America
Not only is Gilbert the fifth largest municipality in the Phoenix metro area (over 240,000 population as of 2017), but it's larger than cities including Boise, Idaho and Richmond, Virginia. What makes it truly unique though is that most communities its size have become cities, making Gilbert the largest "town" in America.
This is largely due to Gilbert's growth, as the population was only around 5,000 people in 1980. As it celebrates its centennial in 2020, there is talk that Gilbert may target city status in the near future. But until then, it maintains the small town feel of yesteryear.
2. It Takes Pride in Its Water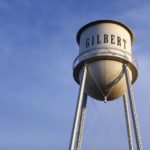 In the desert, few commodities are more precious than water. In Gilbert, water takes city stage, starting with the most famous aspect of the town: the water tower on West Page Street. Though its been purely for show since 1985, the tower serves as a symbol for Gilbert's pride in its water quality.
Since 1986, Gilbert has reclaimed 100 percent of its wastewater. The primary method is through a series of Riparian Preserves, which recharge the water while also serving as a habitat for over 140 species of birds.
3. The First Swimming Pool Cost $52.50
Speaking of water, what would the Phoenix area be without swimming pools? In the 1940s, the Gilbert Women's Club gave the Town just what it needed when it raised $52.50 to cover the costs of a community swimming pool.
Neither the pool nor the Women's Club still exist. The pool was originally located at Page Park, just south of Downtown Gilbert. The Women's Club building is now the Calvary Christian Church, located behind Joe's Real BBQ.
4. A Woman Once Gave Birth in a Bank Vault
In the heart of Downtown Gilbert once stood the Bank of Gilbert, although for most of its life this building hasn't been a bank. What has remained throughout its many incarnations (drug store, restaurant, doctor's office, now an Allstate Insurance building) is the original bank vault.
Well, in the 1970s that bank vault provided an extra layer of privacy as it was used to deliver a baby. That's what happens when your town is too small in population to have a nearby hospital.
5. Its Theater Scene Has Large Roots
Another of the highlights of Downtown Gilbert is the Hale Centre Theatre, which has been offering musicals and stage plays since 2003. One of five Hale Centre Theatres in the US, the Hale family operates the longest continuously running, privately owned theatre company in America.
Now in its third generation of family ownership, the Hale Centre Theatre in Gilbert is operated by grandson David Hale Dietlein. Its season runs from August to July.
Want to learn more fun facts about Downtown Gilbert while also experiencing the Valley's newest Foodie paradise? Check out our Gilbert Food Tour, offered Wednesday, Friday, and Sunday at 2pm.